Best Chemical Peel Treatment in Lahore, Pakistan At Cosmetique Clinic
Chemical peeling is a skin procedure in which your dermatologist applies a chemical solution to your face and removes the top layer. As a result, controlled trauma causes the top layers of the skin to blister and peel off. Then it reveals a new, glowing, youthful skin, improving the skin's overall appearance. Chemical peel treatment in Lahore has various benefits, including even skin tone, reduced wrinkles, brighter skin complexion, etc. So, if you are looking for a qualified dermatologist, look no further than Cosmetique clinic. Our American-certified dermatologists and skin specialists, such as Dr. Azim Jahangir, Dr. Amnah M Raj, and Dr. Saima Malik, provide promising results for patients from all over the world. 
Conditions Chemical Peel Treatment Is Helpful In
Chemical peel treatment helps treat several skin diseases and enhances a person's appearance. Moreover, it helps to improve skin texture and tone. It's commonly done on the face, hands, and neck. Chemical peel benefits with a number of conditions i.e. 
Fine lines around eyes and mouth.

Wrinkles due to age, sunlight, and inheritance.

Some types of acne.

Reduce unwanted freckles, age spots, and liver spots, and improve uneven skin tone. 

Actinic keratosis (Dry, scaly patches. Chances of becoming cancerous.)

Mild scarring.

Melasma due to birth control pills, breastfeeding, or pregnancy.

Dull complexion, hyperpigmentation, and rough skin.
Different Types Of Chemical Peeling Treatment In Lahore, Pakistan?
Different chemical solutions are used in chemical peel treatment, which causes control injury to the skin. Each chemical penetrates into different depths of the skin. Then, it is peeled away to reveal a much younger layer of skin. Only a certified dermatologist such as at COSMETIQUE, can determine the type of chemicals or the depth of your chemical peel. The depth of the chemical peel depends on your skin's condition. The basic types of chemical peel treatment in Lahore include: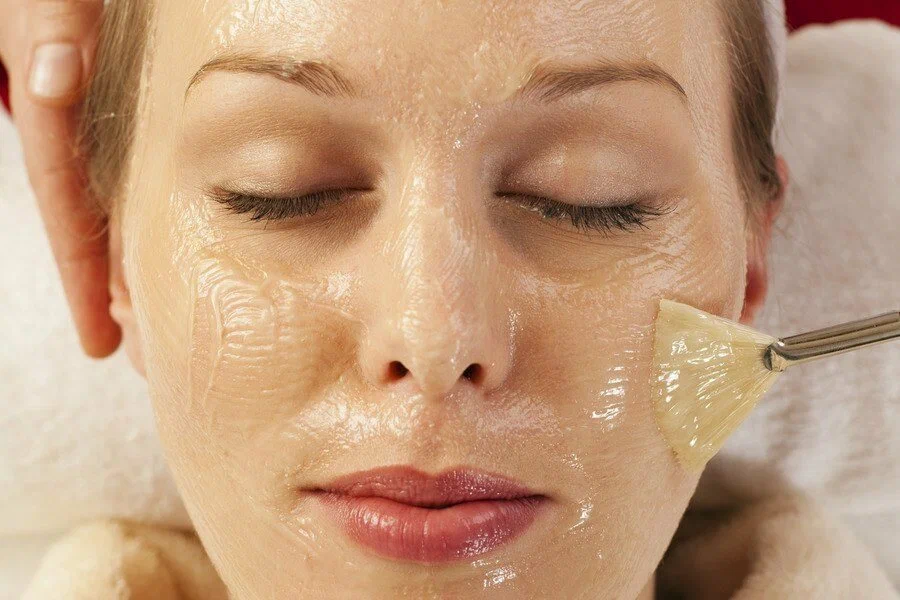 Superfacial Or Lunchtime Peel Or Light Chemical Peel
Light chemical peel treatment in lahore is for people who want glowing skin without spending long periods of time in recovery. It removes the outermost layer of skin only. It is best to improve fine wrinkles, damaged skin by sunlight, and dry and uneven skin color. Lunchtime chemical peeling involves the use of chemical solutions like alpha hydroxy acids (AHAs) including glycolic, lactic, salicylic, or fruit acids. The recovery time of light peel is within hours after the procedure.
Medium chemical peel treatment in Lahore is the best choice to give your skin a fresh look. Glycolic acid or trichloroacetic acid is used to remove the skin's outermost layer and upper middle layer. Medium chemical peels help improve age spots, Acne scars, moderate wrinkles, and mild discoloration. Its recovery takes a few weeks; downtime is less than deeper chemical peeling.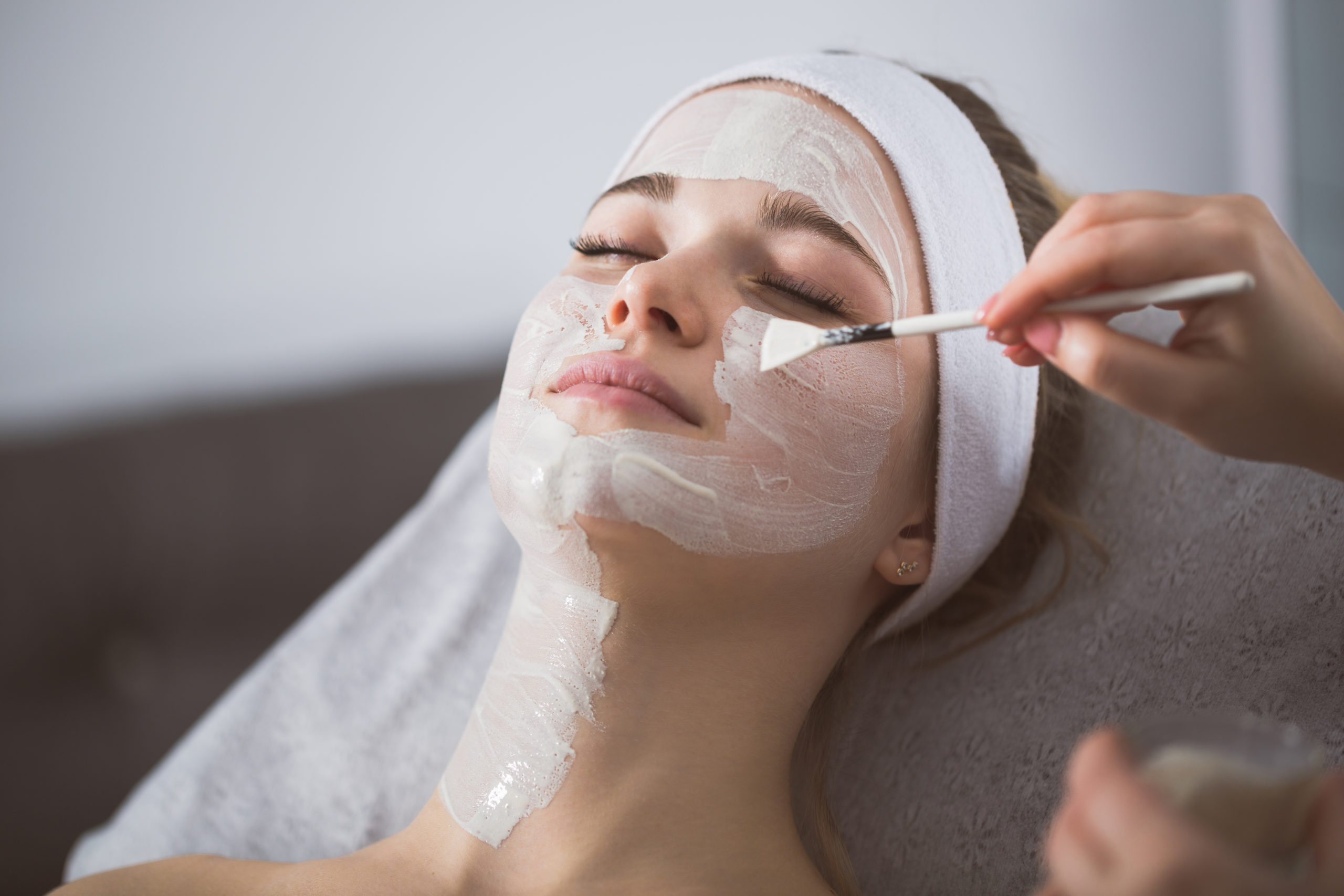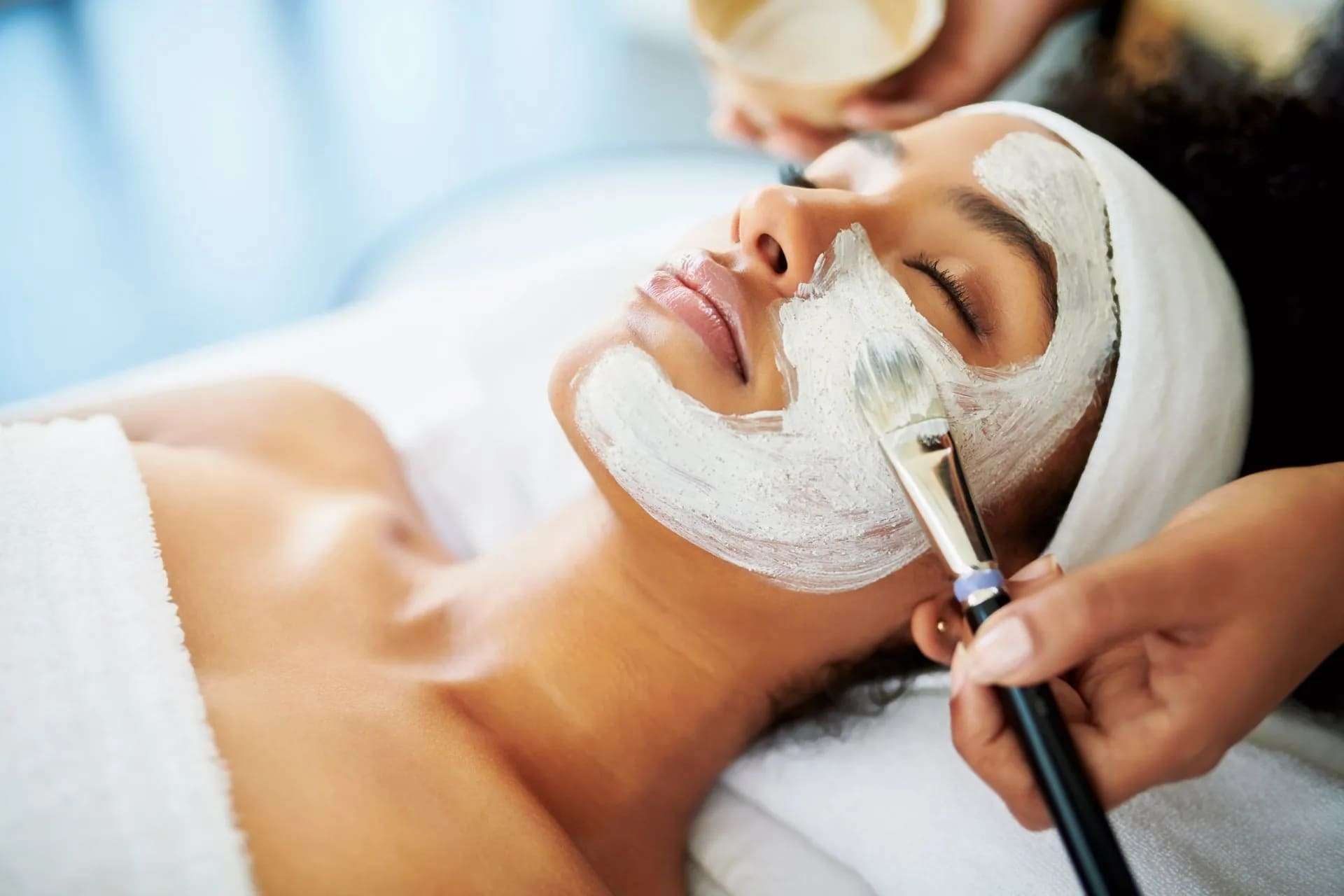 It is the most intense chemical peel treatment in Pakistan in which very strong chemical solutions are used that penetrate from the epidermis to the lower middle layer of the skin. This choice best suits fine lines, deep scars, wrinkles, and extremely damaged skin by sunlight. Dermatologists also recommend deep chemical peeling for Actinic keratosis (precancerous growths). Strong chemical solutions like Trichloroacetic acid or phenol are used in deep peeling. It has a more extended recovery period and is performed only once on the face for 2 to 3 hours. Your dermatologist may inject you with local anesthesia to avoid soreness and discomfort. 
Some chemical peels, such as light chemical peel treatment in DHA, can treat acne blemishes and acne scars. A lower-strength AHA chemical solution can be mixed with face wash and used daily.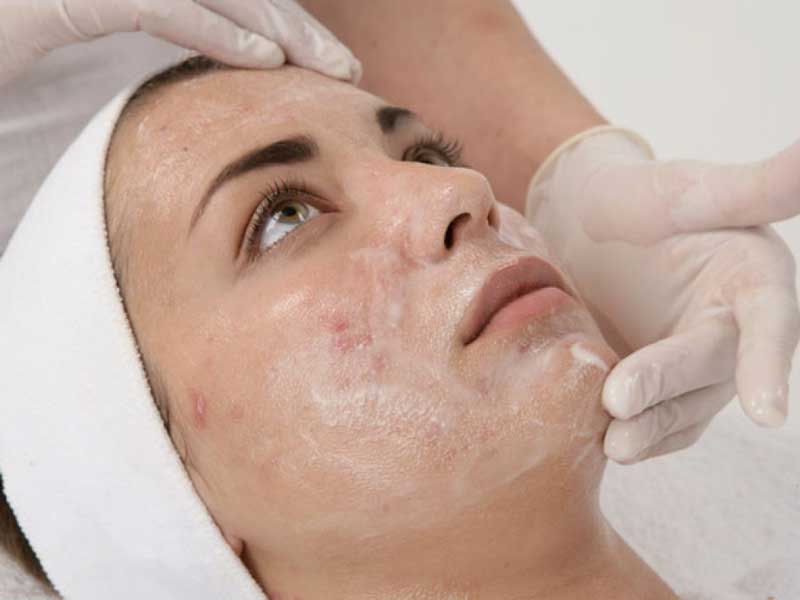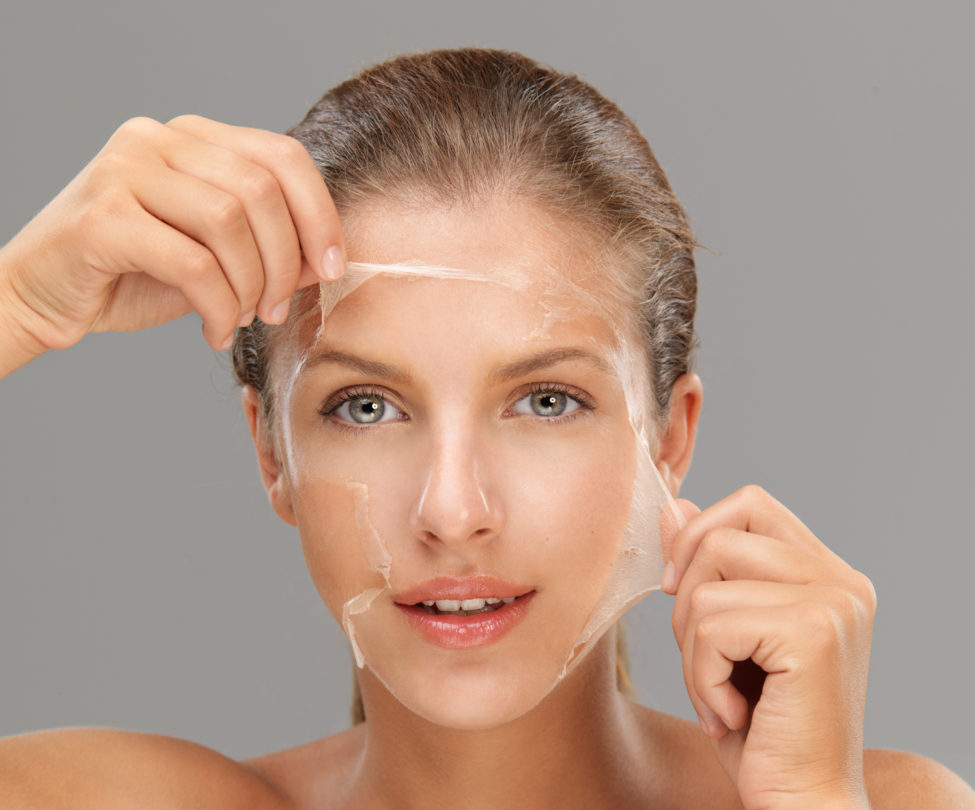 Ideal Candidates For Chemical Peel Treatment in Lahore
A person with good health, a proper understanding of the procedure, and realistic expectations about the treatment are an ideal candidate. Moreover, people with skin issues like wrinkles, age spots, melasma, or Actinic keratosis are good candidates for a chemical peel treatment in Lahore. Furthermore, patients with fair skin tones or lighter hair are better candidates than darker skin-toned people because it may cause uneven skin tone in darker skin-toned people.
Medical professionals advise individuals to abstain from smoking for a few weeks both before and after undergoing a chemical peel treatment. Additionally, they do not recommend the treatment for people who have large scars, such as keloids. Their dermatologist will suggest a different treatment. Chemical peeling treatment is not appropriate for people with heart-related issues who have been taking the acne medicine Accutane® for a year.
Cost Of Chemical Peeling Treatment in Lahore, Pakistan.
Currently, the price range for chemical peel treatment is approximately 600$ to 900$. However, additional expenses such as local anesthesia, operation theater, and hospital admission may cost separately. The final cost also depends on the type of chemical peeling treatment. Deep chemical peeling costs much more than light lunchtime chemical peeling treatment. However, the chemical peel treatment cost in Pakistan starts from 10,000 PKR. At Cosmetique clinic one can find some of the best chemical peel treatment facilities and techniques.
Associated Risks And Advantages of Chemical Peel Treatment
Every skin-related procedure has certain risks and advantages. Chemical peeling helps to balance skin texture and extensive damage due to sun, reduces pores, lifts skin, fades hyperpigmentation, reduces wrinkles, age spots, acne scars, stretch marks, etc., 
However, chemical peel treatment side effects are rare. Some side effects, such as stinging or burning, redness, dryness, or swelling, are temporary. However, there are some rare severe risks involved, such as
Hyperpigmentation or hypopigmentation:

The skin color gets darker or lighter than the original skin color. 

Infections:

Bacterial and fungal infections are rare in the case of chemical peeling procedures. However, people with herpes simplex can experience flare-ups during the treatment.

Damage to heart, liver, or kidney:

The deep chemical peel treatment phenol can damage these vital organs.
How Can I Book My Appointment With One Of The Best Skin Specialists in Lahore?
Booking a consultation with our top dermatologists is extremely easy. You can contact us at 03-111-077-111 or Whatsapp: at +923117770915 to book a time with our skin specialists according to your availability and ease.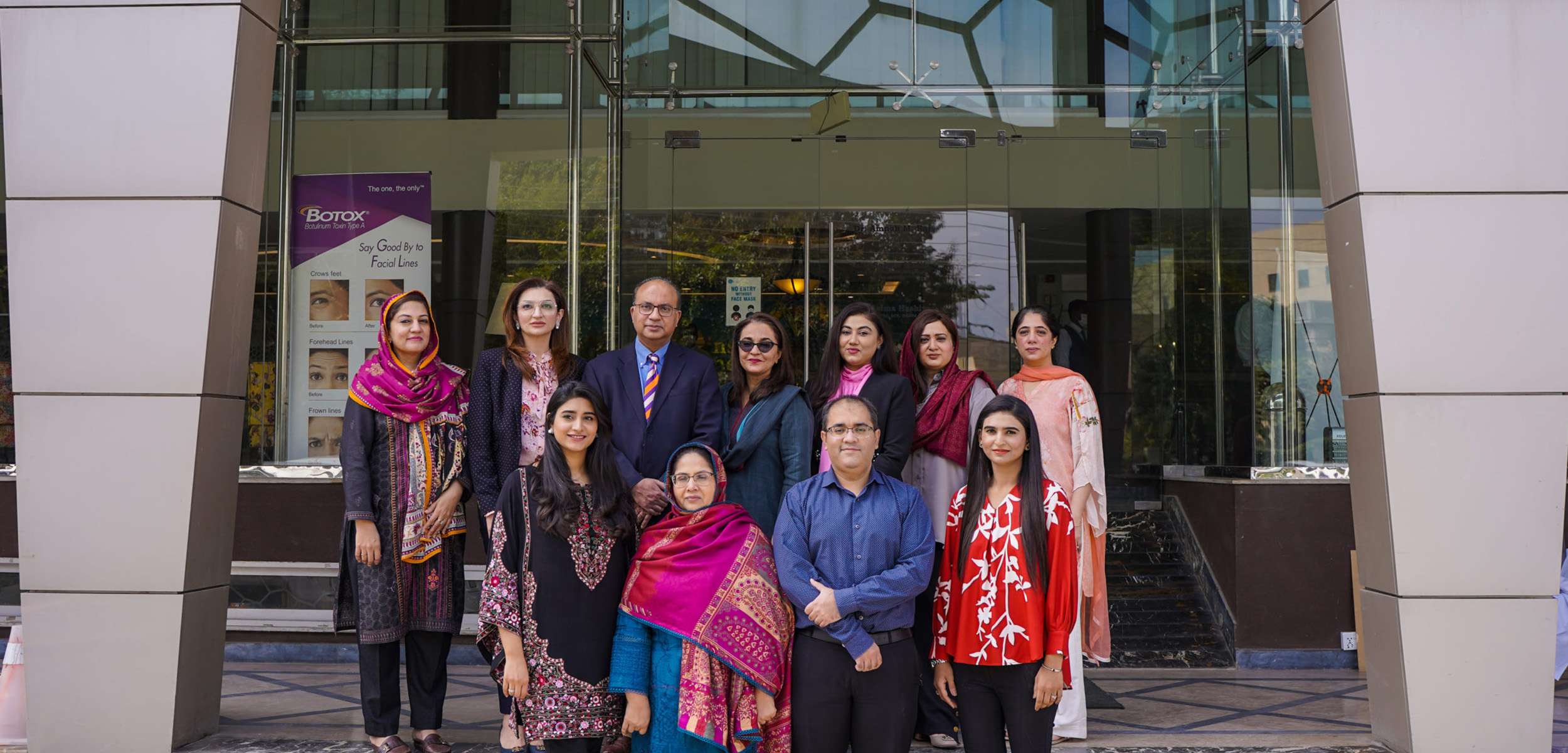 Frequently Asked Questions About Chemical Peel Treatment
Undoubtedly, the best skin specialists in Lahore, Pakistan, having high qualifications and years of experience in dermatology, can treat almost more than 3000 diseases concerning skin, hair and nails. Try Cosmetique clinic if you suffer from such problems, as the best skin specialists serve people with full devotion here.