Looking For the Best Laser clinic in Lahore? Leading Dermatologists Can Be Found At The Best Aesthetic Clinic Institute Cosmetique in Lahore
Are you trying to find the top skin care facility in Pakistan's Lahore?
Indeed, Cosmetique is the best dermatology center in Lahore. Here, the top skin specialists in Pakistan serve people with all their knowledge, expertise, and years of experience. Moreover, they keep the privacy of their patients so that they can share all their problems conveniently with them.
Prof. Dr. Azim Jahangir Khan and the other skin care specialists at Institute Cosmetique have got training from abroad. Also, the majority of them have American board certification, so individuals can feel secure holding them in their hands. Every patient's skin, hair, and nail issue is addressed by them.
For instance, if someone has a skin condition, they diagnose them and then recommend the appropriate course of action.
On the other hand, those with aesthetic requirements or preferences turn to us for a variety of beauty treatments. But our top dermatologists in Pakistan:
Listen to what they need first.

Then determine which procedure will work best for their skin or hair.

Showcase the variety of possibilities available while recommending the one that will work best for them.
So, always trust Institute Cosmetique diagnostic clinic while looking for the top doctors around.
Laser Hair Removal Treatment in Lahore For Men and Women At Cosmetique Clinic
Laser hair removal treatment in Lahore has become an increasingly popular method for removing unwanted hair. This technique however uses a laser beam to destroy hair follicles. Preventing hair growth. People generally consider the procedure safe and effective. They can also use it on almost any part of the body, including the face, arms, legs, and bikini area.
To schedule an appointment at the top diagnostic or dermatological facility in Lahore. Call the cosmetique (skin specialist in Lahore) service at 03-111-077-111 or Whatsapp: at +923117770915 as soon as you can. Alternatively, you can click here to go to the official website of our skin care center: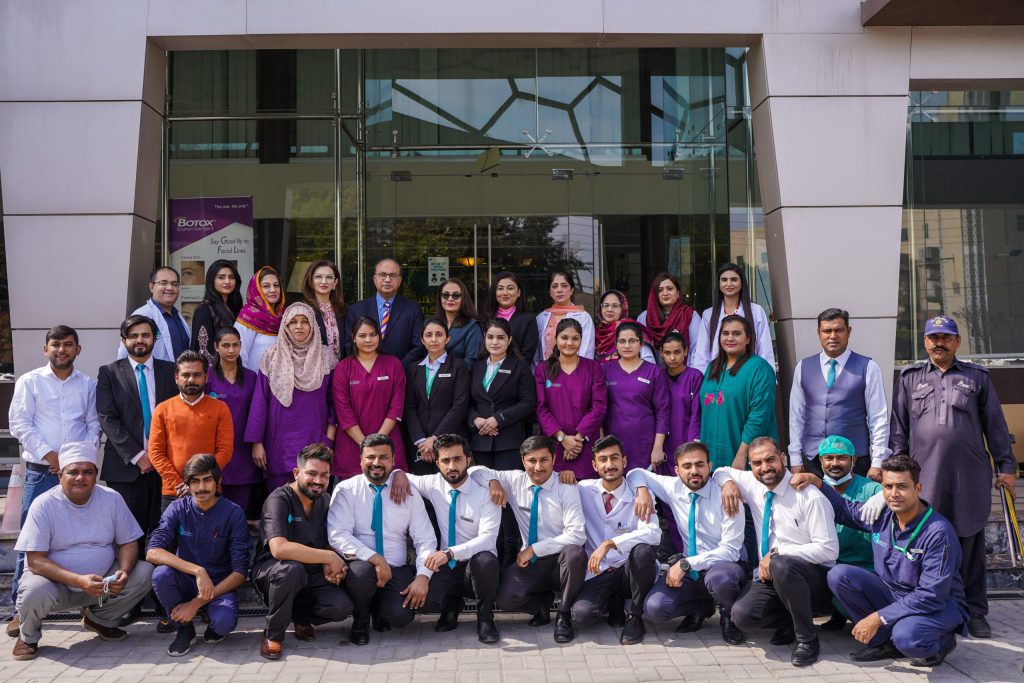 How does laser hair removal work?
Laser hair removal near me targets the pigment (melanin) in hair follicles. The melanin absorbs the laser beam, which heats up and destroys the hair follicle without causing damage to the surrounding skin. Because the laser targets the pigment in the hair follicle. The procedure is best effective on those with dark hair and light skin. Before the operation, the medical staff will cleanse and shave the treatment region. The technician will then apply a cooling gel to protect the skin and help the laser penetrate the skin.
The user directs the handheld laser device onto the skin and targets the hair follicles with the laser beam. Each laser pulse only takes a fraction of a second, and it can treat several hairs at once. Treating larger areas of the body, such as the legs or back, may take up to an hour. While, treating smaller areas, such as the upper lip or chin, can be done in just a few minutes.
Is Laser Hair Removal Painful?
Most people report that laser hair removal treatment in Lahore is relatively painless. But some people may experience discomfort or mild pain during the procedure.
People often describe the sensation as a mild snapping or stinging feeling. Resembling the snap of a rubber band against the skin. However, the use of a numbing cream or a cooling gel can minimize this discomfort.
How Many Treatments Are Necessary
The laser hair removal procedure basically requires multiple treatments to achieve permanent hair reduction. Because of the cycles that hair growth follows.
The number of treatments needed depends on various factors such as the size of the treated area, the thickness of the hair, and the hair color. Most people will need between six and eight treatments spaced four to six weeks apart to achieve the best results. Moreover, after the initial treatment course, some people may require occasional touch-up treatments to maintain the results.
What Are The Benefits Of Laser Hair Removal
The benefits of laser hair removal in Lahore are numerous. Furthermore, it provides long-lasting hair reduction or even permanent hair removal. The procedure is non-invasive, which means it does not involve incisions or needles. People generally consider it safe and effective.
Laser hair removal also saves time and money in the long run. Shaving, waxing, and other hair removal methods require frequent maintenance. And the cost of these treatments can add up over time.
Laser hair removal treatment near me may be more expensive upfront. But it can save money in the long run by eliminating the need for frequent hair removal treatments.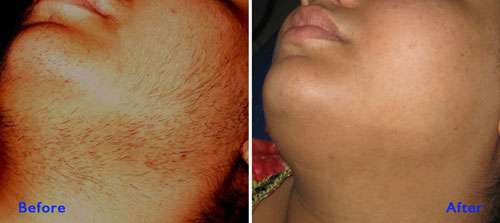 What Are The Risks Of Laser Hair Removal
Although people generally consider laser hair removal treatment in Lahore to be safe. The procedure does carry some risks. Redness, swelling, and slight discomfort in the treatment area are the most typical adverse effects.
Most of the time, these side effects go away within a few hours to a few days. In rare cases, more serious side effects can occur, such as scarring, changes in skin color, or skin blistering. To minimize the risk of side effects, it is important to choose a reputable provider with experience in the best laser hair removal treatment in Lahore.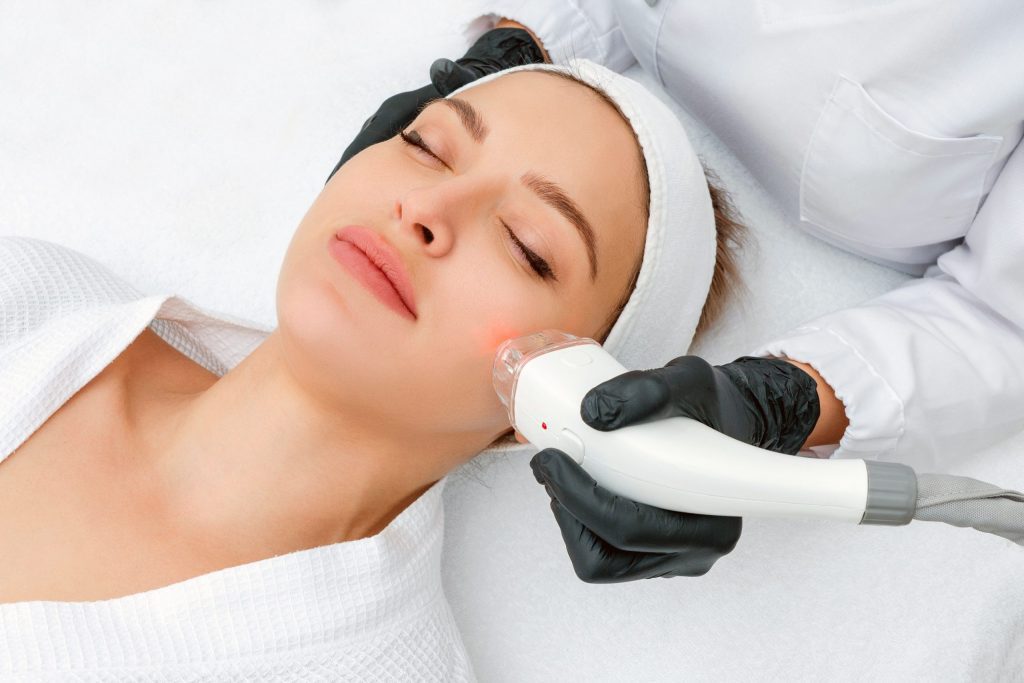 The Right Person For Laser Hair Removal
The top laser clinic in Lahore can treat a variety of skin and hair types, but people with a light complexion and dark hair benefit from laser hair removal treatment the most.
People with very light or very dark skin may not be good candidates for laser hair removal treatment at the best laser clinic in Lahore. As the laser may not be able to distinguish between the hair follicle and the surrounding skin.
What Dangers Could Laser Hair Removal Pose?
Laser hair removal does not guarantee permanent hair removal. Laser therapy may not completely remove all hair. Some hair may regrow following treatment, albeit this time it may be finer and lighter in color.
The following are possible adverse effects of laser hair removal:
Little edema surrounding the hair follicles.

Those with darker skin may have pigment alterations, but these changes are often only transitory.

A little skin redness.

inflammation that lasts only briefly and causes blistering, crusting, scarring, or other changes to the texture of the skin.
Cost Of Laser Hair Removal In Pakistan:
The cost of laser hair removal in Pakistan is between PKR 4000 and PKR 10,000. It varies depending on a number of factors, including the size of the area being treated. How long therapy will take? How many treatments will be required, and who will be performing the procedure? And how much the hospital and the equipment will cost.
The First Answer For Clean Skin: The Best Skin Clinic In Lahore
The response is "it depends" in the instance of laser hair removal.
Your body's specific skin or hair color, as well as your age and state of health, all have a role to play. Some fortunate individuals have just one or two treatments to get smooth, hair-free skin. Some people could need six to eight treatments spread out over a year.
The majority of people probably require multiple laser treatments for hair removal to achieve the desired outcomes. All studies, however, indicate that it varies based on your age. Overall health, skin type, and hair color
How much melanin is present in your skin? Your hair determines the number of laser treatments required for permanent hair removal. If you have more melanin. You will need to undergo more treatments before seeing a substantial reduction in hair growth.
As laser light can only target follicles that are actively growing.If, you've been regularly shaving or waxing for years (or even months).
By the time the treated hairs appear under a microscope. They are already dead or dormant. They cannot get additional laser treatments for hair removal in Lahore until new hairs begin to sprout at the base of the hair follicle.